Dimensions / φ380mm H450mm/ H630mm
背割りをした丸太の溝を利用して丸太を地形、金属部分を建築と見立てて、デザインしている。
*背割りとは、未乾燥の針葉樹の心持ち材などにおいて、製材後の乾燥による材面割れ(背割れという)を防止・軽減させるために行う製材工法のこと。
柱や化粧材として使用される木材のみに行われる。土台などの構造材には行われない。
地形を読み解き、時に寄り添い、時に大胆に成り立つ建築は、それでも人が介在するにあたり、水平は必ず保たれる。
そんな建築のように、自然の丸太に対しテーブルの機能としての水平面を確保しつつも、一見不均衡にも見える独特なフォルムが生まれた。
自然な線に対し、人工的な線を機能として描くことで、建築的なバランスが見えてくる。
The design is based on the grooves in the back-split logs, using the logs as topography and the metal parts as architecture.Back-splitting is a sawing method used to prevent or reduce cracking unseasoned softwood lumber, such as heartwood, due to drying after sawing. (called back-splitting) in unseasoned softwood lumber, such as heartwood, due to drying after sawing.
This method is used only for lumber used for posts and decorative lumber. It is not used for structural timbers such as foundations.
Architecture, which is based on reading the topography, sometimes leaning toward it and sometimes boldly, always maintains the horizontal level when human intervention is used.
As in such architecture, a unique form was created that at first glance appears unbalanced, while maintaining a horizontal surface for the function of the table against the natural logs.
By drawing an artificial line as a function against the natural line, an architectural balance can be found.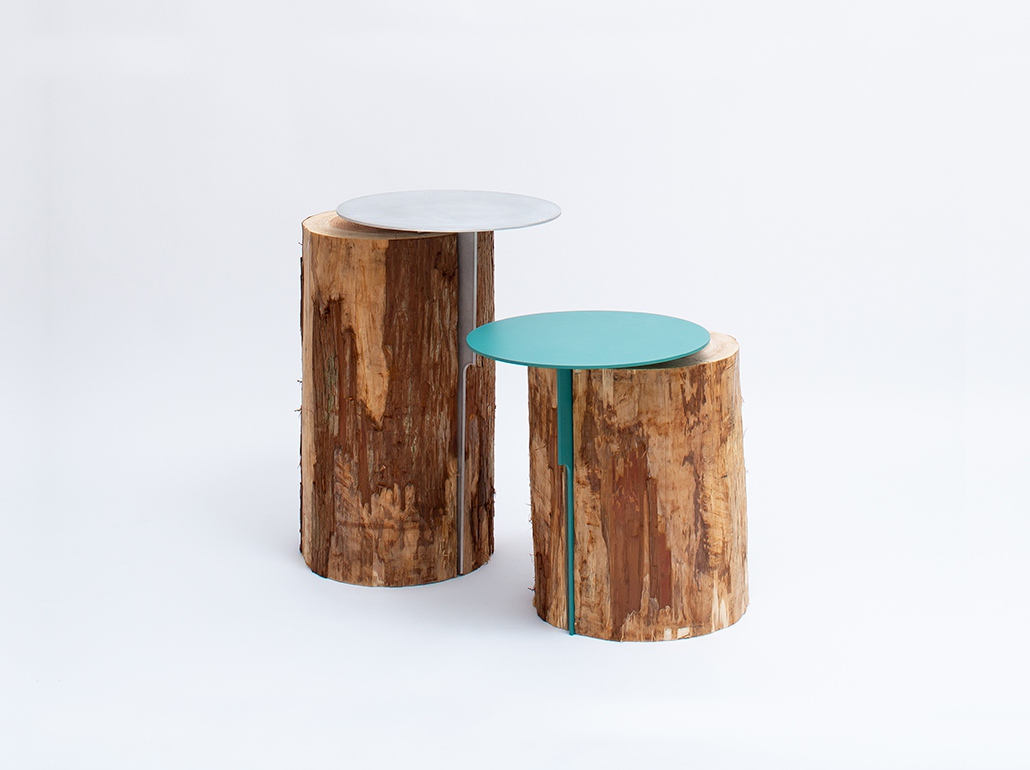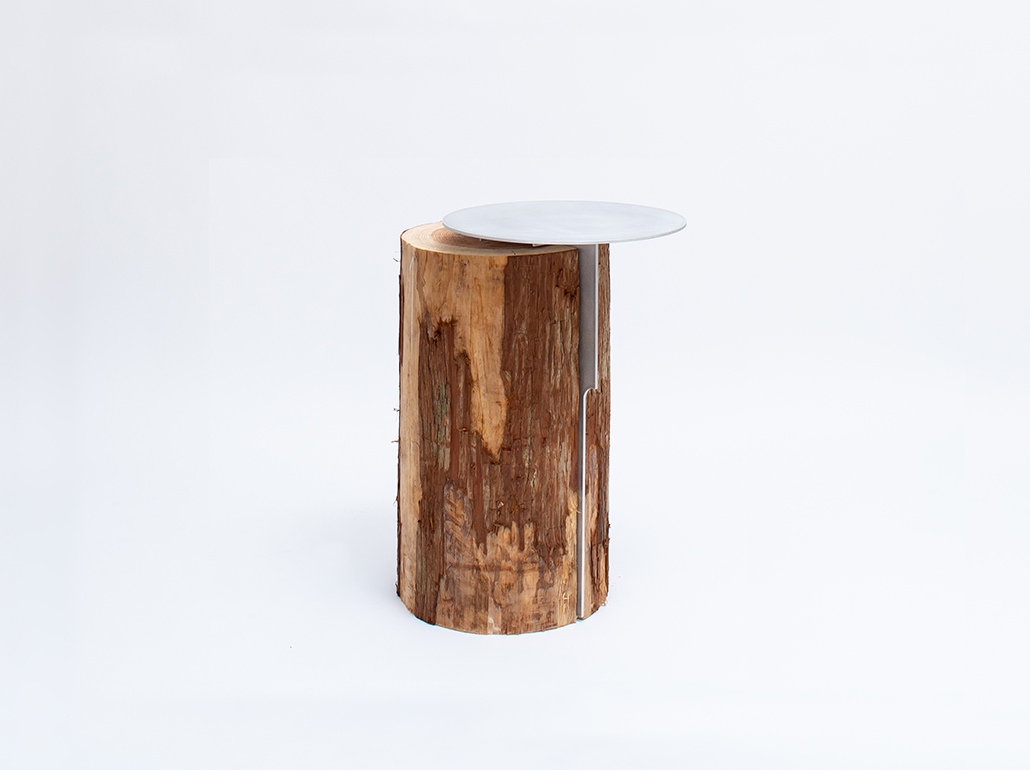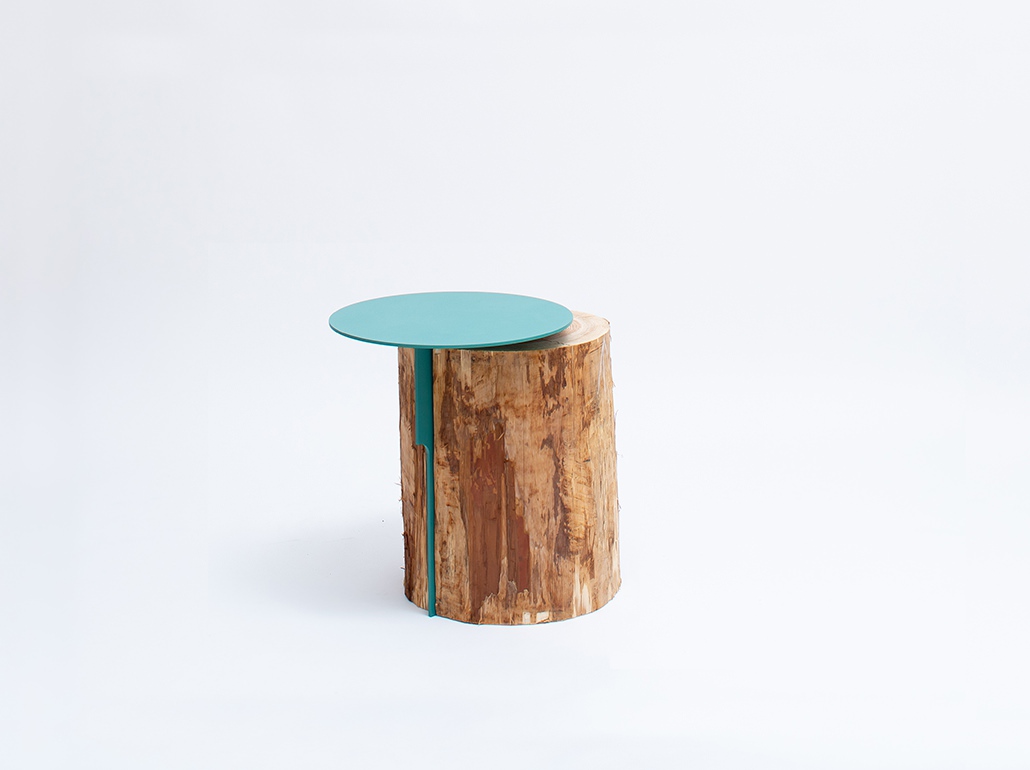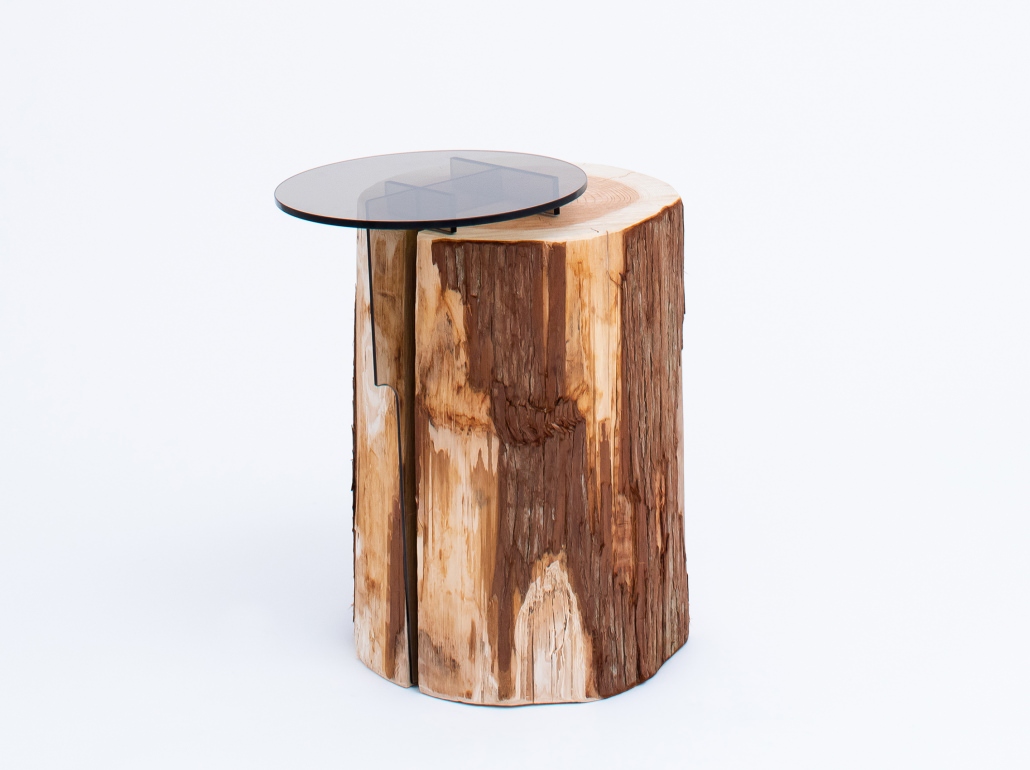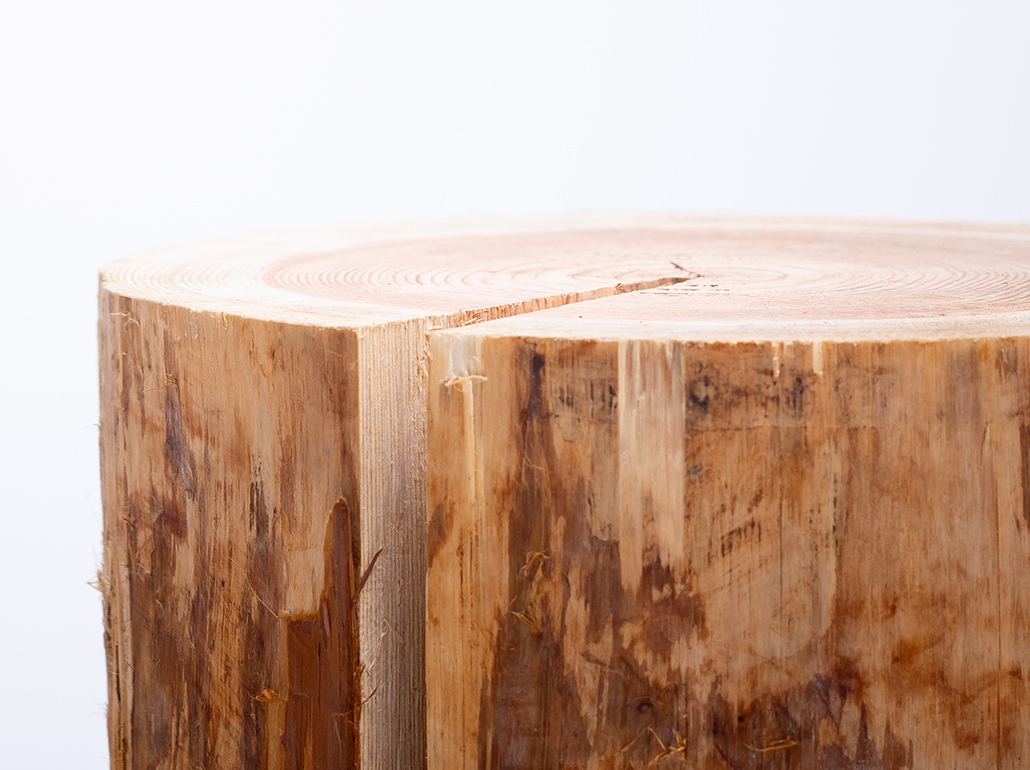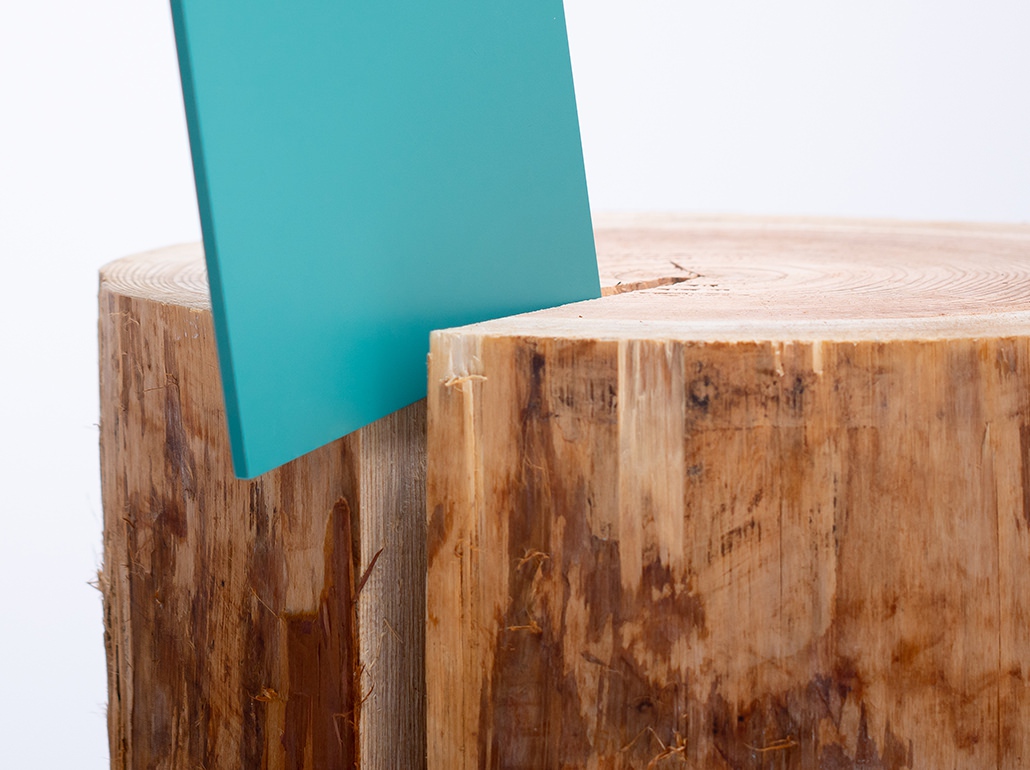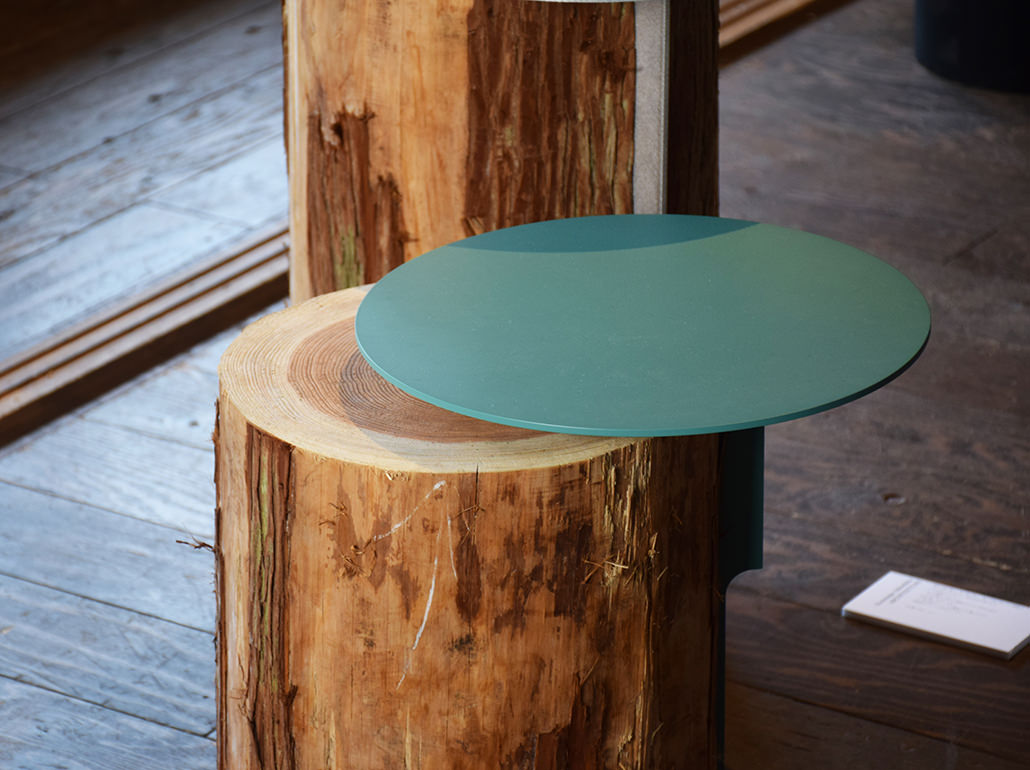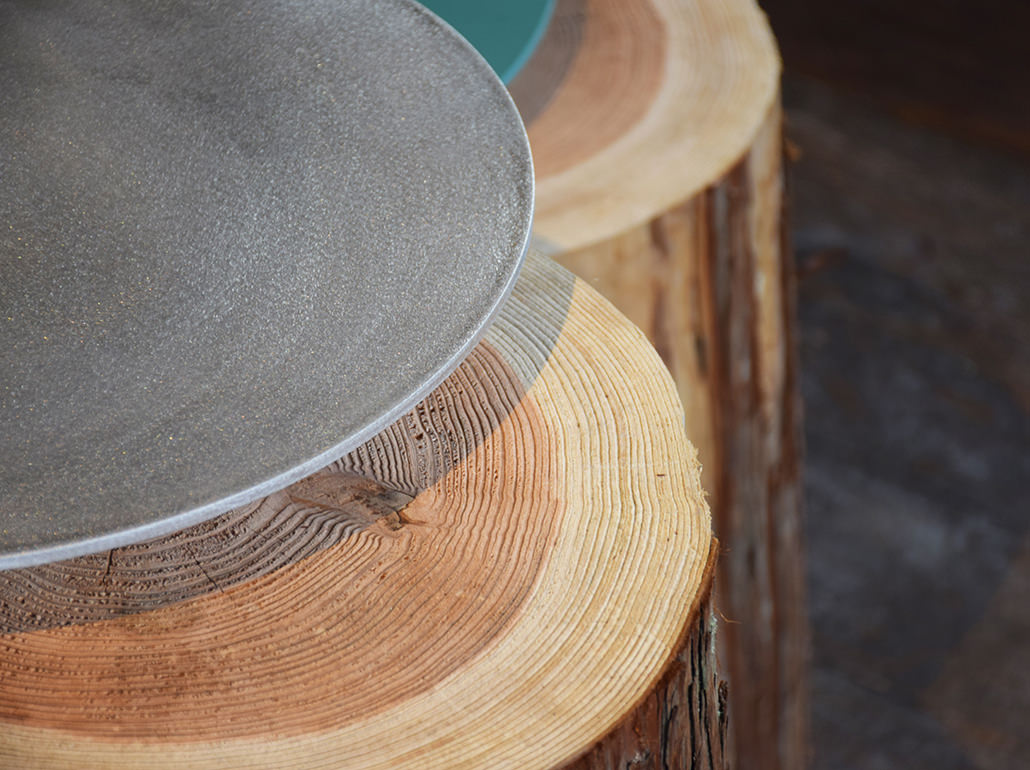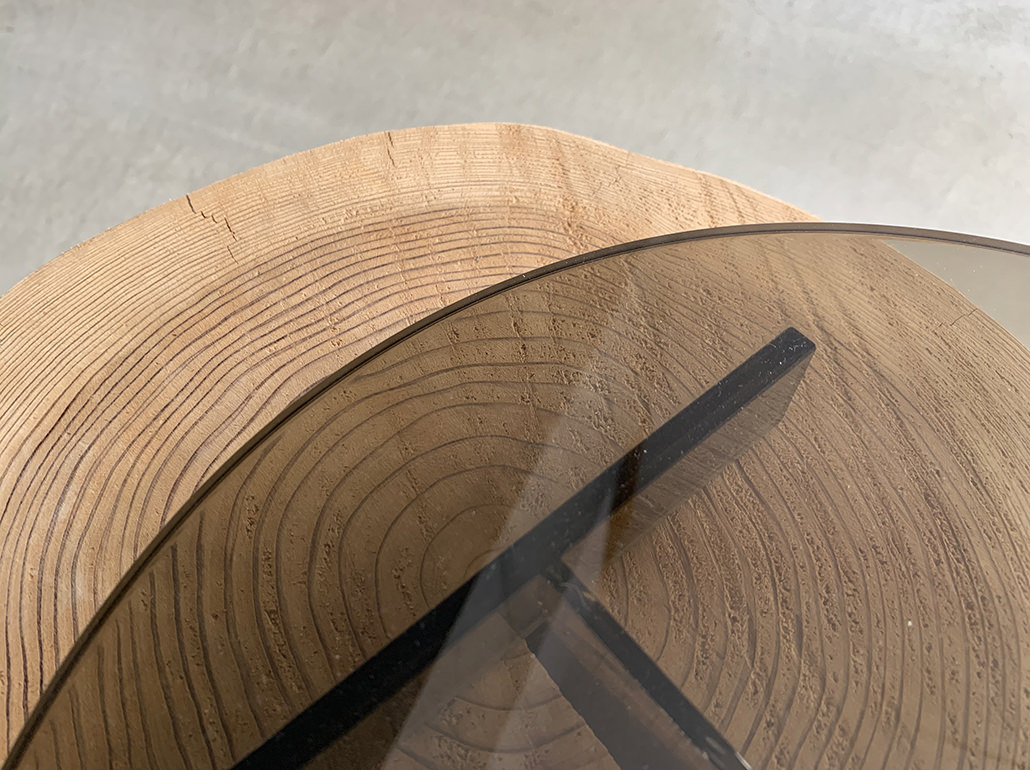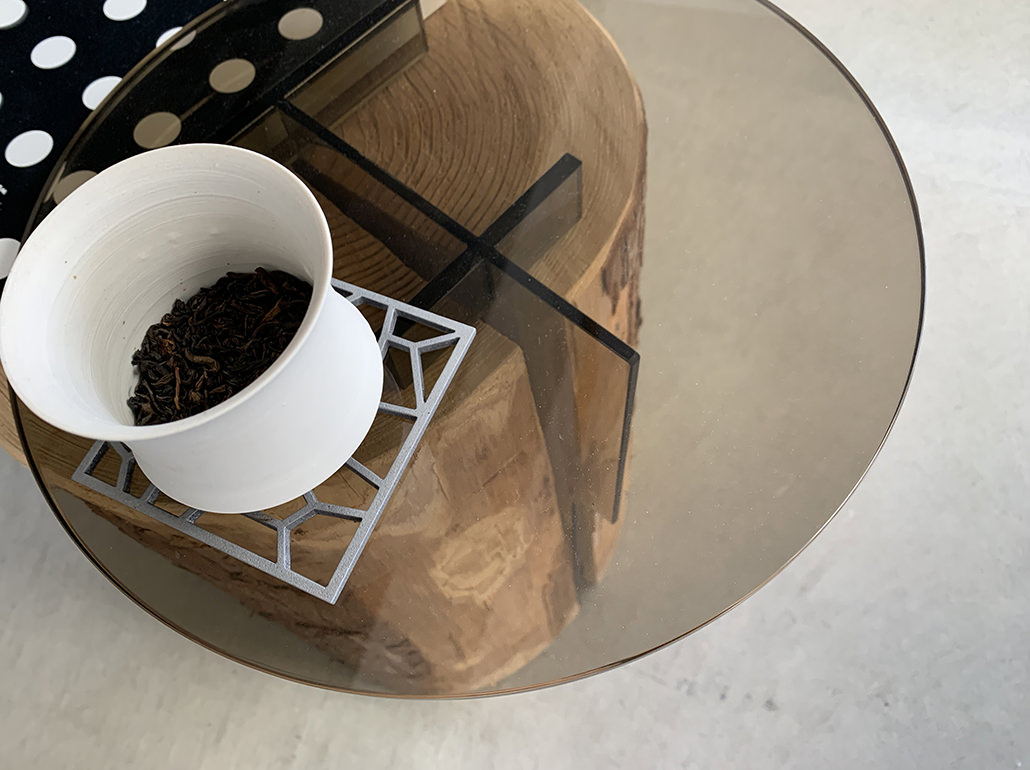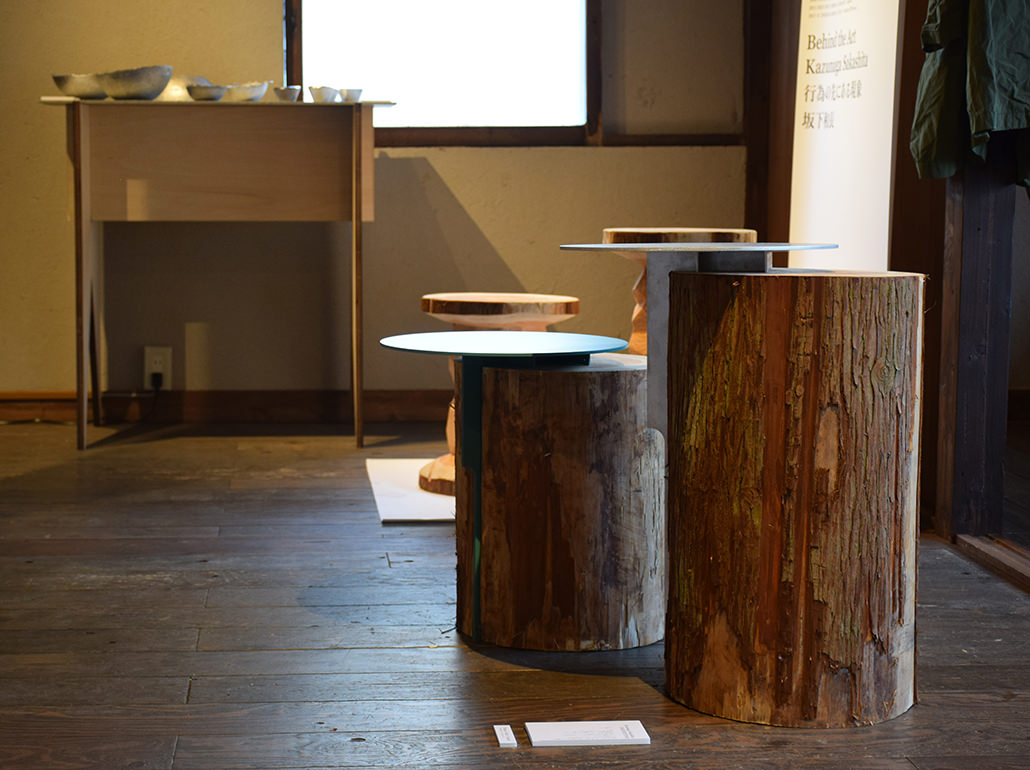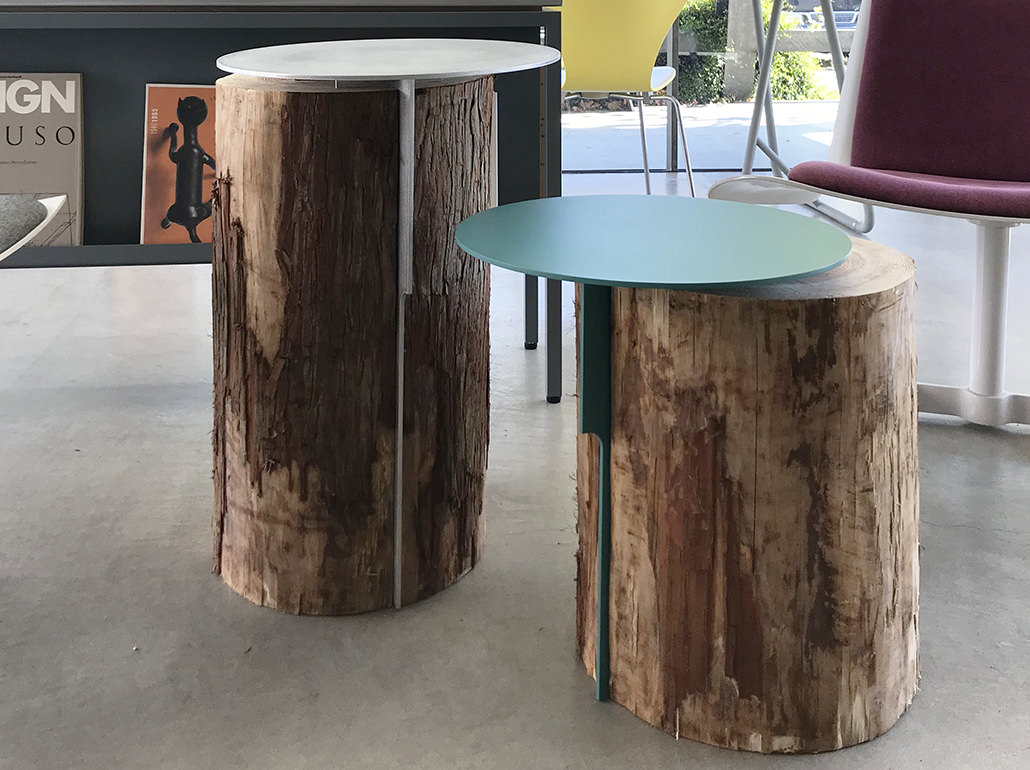 委ねることで得られるもの。 −作為と無作為の狭間で−
有機質と無機質、自然物と人工物、曲線と直線、アートとデザインなど、相反するように見え、こちら側と向こう側のように分け隔てられているもののほとんどは、人間が「構図」としてわかりやすく対立させただけもののように思う。
実生活におけるそれらは必ずしもそうではなく、表裏一体という言葉もあるように、実は密接で、寄り添いあう関係でもある。
単純な対立構造ではなく、組み合わせると一見感じる違和感という"フック"をうまく感知し、そこに親和性を見出すことができた時、新たな価値とデザインの可能性が生まれるのではないか。
作為と無作為の狭間でせめぎ合う思考とその先にあるまだ見ぬ姿。テーマでもある「行為の先にある現象」を踏まえ、「委ねる」ということを「行為」と捉え、その成り行きを寛容に受け入れることで、画一的なデザインとは一線を画す、表情豊かなプリミティブなデザインを試みている。
-DESIGNART2018 [Beyond the Simplicity Vol.3]より-
What you get by delegating. -Between the random and the random
Between the organic and the inorganic, the curved and the straight, the art and the design.
Organic and inorganic, natural and artificial, curved and straight, art and design - most of these seem to be opposites, and are divided into this side and that side, but it seems that they are only opposites that we humans have made into easy-to-understand "compositions".
In real life, these are not necessarily so. As the term "two sides of the same coin" suggests, they are in fact close and coexist with each other.
When we are able to detect the "hook" of discomfort that we feel at first glance when they are combined and find affinity in them, rather than a simple oppositional structure, new value and design possibilities may be born.
The thoughts that struggle between the "act" and the "randomness," and the unknown forms that lie ahead of them. Based on the theme of "the phenomenon that lies beyond action," the artist considers "entrusting" as an "act" and attempts to create expressive primitive designs that are distinctly different from standardized designs by accepting the process with openmindedness.